Written on 1:08 AM by yahoo
delivers the latest breaking news and info


Malaysian opposition leader Anwar Ibrahim has been released on bail after he was arrested Wednesday for questioning about a sodomy case, Malaysia's home affairs minister told CNN.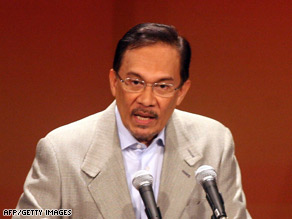 The arrest, which the U.S. State Department said "raises serious questions and concerns," is the second time Anwar, one of Asia's best-known opposition leaders, has been incarcerated on charges including sodomy and comes after a coalition he led gained seats in the country's parliamentary elections.
Investigators arrested Anwar about 12:55 p.m. (12:55 a.m. ET) Wednesday as he returned from Putrajaya, south of Kuala Lumpur, said his personal lawyer, Siva Rasah.
Malaysian Home Affairs Minister Syed Hamid Albar told CNN that Anwar was released at about 9:30 a.m. Thursday.
A 23-year-old male aide has accused Anwar, 60, of sodomizing him at a luxury apartment in June. Anwar has said the allegations are meant to tamp down his political gains.
Sodomy, even if consensual, is punishable by 20 years in prison in the majority-Muslim country.
A loose coalition of opposition parties -- with Anwar at the helm -- won 82 of 222 parliamentary seats in elections in March. It was only the second time in the country's history that the ruling party failed to gain the two-thirds majority needed to amend Malaysia's constitution.
Anwar spent six years in prison after being convicted on corruption charges in 1999 and on sodomy charges involving his wife's former driver in 2000. Malaysia's highest court overturned the sodomy conviction and ordered him released from prison in 2004.
He left prison in a wheelchair due to injuries he blamed on a 1998 beating by Malaysia's then-police chief.
International observers, including the State department, expressed concern about Wednesday's arrest.
"We believe the detention today of prominent Malaysian opposition figure Anwar Ibrahim raises serious questions and concerns," said department spokesman Sean McCormack in a written statement. "We urge Malaysian authorities to resolve this matter in a manner that builds confidence in the impartial rule of law in malaysia

Albar, the Malaysian minister, said politics played no role in the arrest.
"Anwar is not above the law; everyone is within the law," Albar said to CNN in a telephone interview. "We will look at it purely as a case of criminality that the government needs to investigate."
He cited opposition gains in the March elections and Anwar's relatively short stay before he was freed on bail as evidence Malaysia's government is not out to get the politician. He said police took two weeks to investigate the charges against him before an arrest was made.
"We went slowly, knowing the international community is observing us on this -- knowing his popularity on the international level," Albar said. "To be fair, you must give the complainant the chance that he's being heard. It is the right of a citizen. It is the police's duty to investigate."
Anwar, a former deputy premier many believed to be the heir apparent to former Prime Minister Mohamed has long said the past charges against him were politically motivated. The investigating officer in his original sodomy case was Malaysia's chief of police and the prosecutor was the nation's attorney general.
While his sodomy conviction was overturned the corruption conviction never was -- barring him from running for office again until this year.

If you enjoyed this post
Subscribe to our feed